What Not to Wear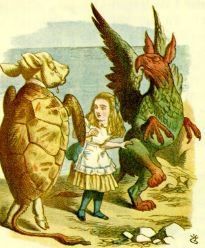 Today I attended a professional conference in the big square state. It was a biggie too. I have never been so acutely aware of where the stereotypical librarian look emerged from as I was today. A phrase a friend used often came to mind "Mother of
G-d!" I wondered if some of these people knew that they were going to a professional conference today! I'm letting go of the people I saw wearing jeans, and festive seasonally embroidered vests and sweaters. I can not let go of the mock turtle necks though.
Mock turtle necks. Are these the ultimate tie repelling garmets? I know I've talked about ties before, and the floor is divided on my opinion. But by wearing a mock turtle neck, you are saying "not only will I not wear a tie, but I've taken prevetative measures." Please go to your closets and throw away your mock turtle necks. In fact in one presentation, I expected the two speakers to break out into folk music a la A Mighty Wind.
As for stereotypes, I saw my fill of corderoy jackets, wash and wear trousers, pleated front khaki's, and Comfort Zone-esque loafers on the men. And I seemed to be the only one WITHOUT facial hair of some sort. It can look good, I've often thought of the pencil moustaches as being especially glam. But Beardy McBeardenstiens were everywhere.
Outside of all of that, the presentations were well worth my time, and I actually learned a lot about buidling a resume or CV, the USA PATRIOT act (which I didn't realize that USA PATRIOT was a huge acronym) and the potential for getting published as an undergrad. The woman from Bowling Green was amazing, and I really want to read more of her work.
Its nice to feel inspired every now and again. But enough of the mock turtle necks, OK?
Moral of this blog: 'I never heard of "Uglification,"' Alice ventured to say. 'What is it?'